This is a free post for everyone on the Payneful Truth list. If you'd like to get every edition every week, see below in the 'PS'.
---
This is the third in a series of four posts that seeks to answer the question: Why is it that some churches raise up plenty of people for full-time gospel work and some not so much?
I've been suggesting that there are four key factors or drivers, and as we've looked at the first two, I hope it's become obvious that they are characteristics that any healthy evangelical church should possess.
The first two factors are:
1.   that the radical call of the gospel to die to self and live for Christ is being boldly preached, taught and exemplified (Part 1 in the series);
2.  that a clear theology of secular work is taught, which neither under-values nor over-values its importance, and which teaches that all Christians have the same true 'career'—a life-calling to live for Jesus Christ (Part 2 in the series).
Now to the third factor, which flows out of the first two.
---
The training culture
Churches that recruit people into full-time, occupational ministry almost always have their own distinctive culture of training.
'Training' is one of those big, baggy words, with lots of associations, and so some definition is needed.
In recent Christian history, 'training' has come to mean something like 'running courses or seminars that teach certain competencies for Christian ministry'—whether classic courses like the Two ways to live personal evangelism course, or a set of training sessions on small group leadership, or some training videos on an aspect of team leadership, or perhaps a Saturday morning parenting seminar.
All of these things can be excellent and useful, but they are not the essence of 'training'. Biblically speaking, 'training' is a persistent effort to help someone else live out the healthy doctrine of the gospel. It's what the older women do for the younger women in Titus 2. They are to "teach what is good, and so train the young women to love their husbands and children, to be self-controlled, pure, working at home, kind, and submissive to their own husbands, that the word of God may not be reviled" (Tit 2:3-5). This is part of Titus's overall mission to teach what accords with sound or healthy doctrine—that is, to teach the way of life that is the necessary outworking of the true and good doctrine of the gospel.
We've already seen (in the first post in this series) that the gospel is this kind of message. It ends one life and begins another. It calls us to a radical new existence in service of him who for our sake died and was raised (2 Cor 5:14-15). If we believe that the gospel is this kind of life-changing message, then we must be committed to teaching, helping, encouraging, supporting and exhorting one another to live out this new life, day by day.
'Training' is one way that the New Testament describes this ongoing, granular process of helping others to learn to live out the truth of the gospel. It's about more than practical skills or the ability to do something, although it's rarely less than that. It's the steady development of Christian character, built on an ever-deepening understanding of the truth of Christ, and expressed in daily, godly action. It's learning to pray, learning to persevere in Christ, learning to give thanks in all circumstances, learning to love our families, and more besides.
Very importantly, it's also learning to be an ambassador for Christ, a fellow-worker in his ministry of reconciliation—because this too is a fundamental aspect of living each day for Christ. What we often call 'ministry skills' are really just particular aspects of Christian living or maturity, that we also need to be trained in—for example, learning how to be concerned for the non-Christian people around us, to interact with them wisely and graciously, and to explain to them the hope that we have; or learning how to encourage a fellow-believer in the faith through speaking the truth in love. These godly actions and abilities are an integral part of living out the truth of the gospel in our lives, just as loving husbands and children is an outworking of gospel doctrine for young women.
'Training' is this patient work of helping people live out the gospel practically in their lives. Training assumes that becoming more like Christ in our actions and character happens over time; that it's a life-long process of 'putting on' and 'putting off'; and that God has given us each other to help and encourage and teach and exemplify and exhort and admonish one another, as we seek to live out the truth of the gospel in our lives more and more.
Training, then, certainly involves knowledge, teaching and content, but it also requires time, example, correction, practice and perseverance. It needs more than a sermon on the subject—although that is an excellent framework and foundation. And it requires more than a set of videos or a six-week training course —although those sorts of things are often very handy booster rockets for moving the process along. The essence of training is that Someone (usually a knowledgeable, godly, experienced someone) is helping, instructing and encouraging Someone Else to grow in some aspect of lived discipleship over time—whether that's an older woman training a younger woman to love her husband and children; or a small group leader training the group members in how to share the gospel with others, or how to encourage one another in the faith.
There's lots more to say about 'training' and how it works—and never fear, I will very likely be saying it!—but for the purposes of this little series of posts, the point I wish to make is simple: churches that raise up lots of people for gospel service almost always have a culture of training. They are constantly working, in a whole variety of ways right across the whole church ecosystem, to help believers grow in their knowledge, heart and ability to serve others in Christ. They almost always have intentional plans for training Christians to make progress as 'fellow-workers' in Christ, and this will very often include various training frameworks or activities or courses. But these training activities or courses are part of a larger culture of training that pervades the whole congregational life—the Sunday gathering, the small group ministry, the home life of believers, the evangelistic outreach of the church, and so on.
Churches that cultivate this kind of training culture raise up an army of gospel-hearted servants of Christ, with all sorts of different abilities and opportunities. And some of these gospel servants will display the character and gifts that make full-time gospel ministry an obvious path to explore.
In other words, one reason that many churches are not recruiting particular people for full-time gospel ministry is that they are not raising up and training everyone for gospel ministry.
It's the same reason that my home town of Lismore has produced some outstanding cricketers and Rugby League players over the years, but very few stars of basketball or ice hockey. We're a cricketing, league-playing sort of town.
What sort of town is your church?
---
PS.
We'll come to the fourth and final factor in next week's post. If you want to receive that edition, along with every week's Payneful Truth , some bonus extras and access to the full archive, here are two things you can do.
You could become a partner. This is really my way of fundraising for the writing ministry I'm currently engaged in, both at The Payneful Truth and in the other ministry resources I'm developing. You can choose monthly ($7), yearly ($70) or even lifetime ($700!) options.
Or if you'd like to be part of the regular weekly list, but aren't in a position to support the work financially, you can use this special coupon/link to get 'partner' status for free for the next 12 months:
https://thepaynefultruth.substack.com/skint
---
Thanks for the various comments about career and work, both in response to last week's post, and to the bonus essay that I sent around over the weekend. My co-author of the essay, David Hohne, reminded me that he has some more material on the subject from a Moore College School of Theology paper a few years ago—I'll be incorporating some of that as well in the final form of the piece.
---
This week's random image features one of the Lismore district's best-known cricketing exports. Gillie used to keep my younger brother (who was also a wicketkeeper) out of all the rep sides.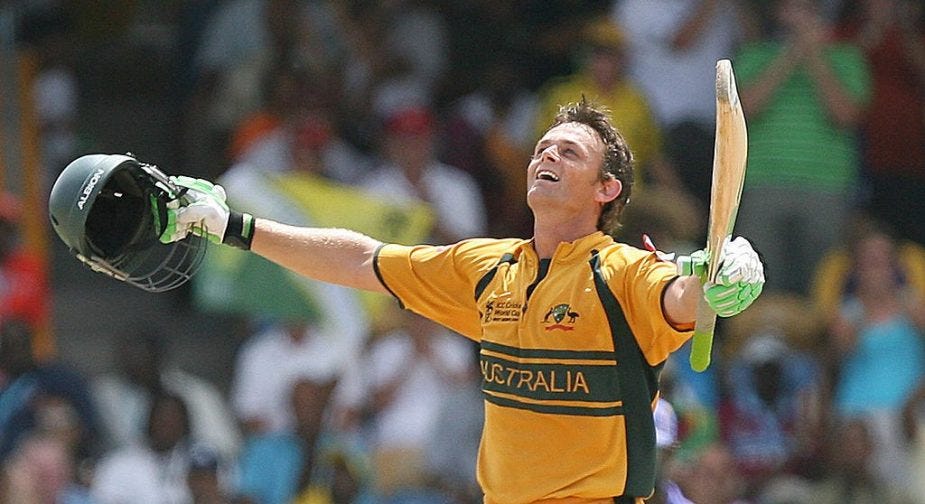 PPS. At the bottom of this email you may seen a line that says, "This post is only for paying subscribers of The Payneful Truth, but it's ok to forward every once in a while." This is generated by the Substack system, and I haven't been able to work out how to get rid of it as yet. Please ignore!